Faculty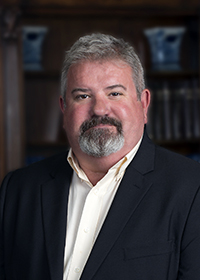 Randall Mynatt, Ph.D.
Associate Professor

Department/Laboratory:
Transgenics Core
Gene-Nutrient Interactions
Phone: (225) 763-3100
Fax: (225) 763-0273
Education:
Ph.D., University of Tennessee, Knoxville, TN, 1991, Nutrition Sciences

Research Interests:
Dr. Mynatt is the Director of the Transgenic and Gene Targeting Facility. His areas of interest are the regulation of adipogenesis and adipocyte function by the agouti/melanocortin system. Agouti/melanocortins are part of a communication circuit between the brain and adipose tissue which conveys centrally-mediated signals and modulates adipocytes responsiveness to these signals. The focus of his research is to understand both the mechanisms of agouti/melanocortin action on preadipocytes and adipocytes and the basis for how these effects on adipocyte function contribute to obesity.
Recent Publications:
White UA, Stewart WC, Mynatt RL, and Stephens JM. Neuropoietin attenuates adipogenesis and induces insulin resistance in adipocytes. Journal of Biological Chemistry 283:22505-22512, 2008. PMC2504895.


Kumar KG, Trevaskis JL, Lam DD, Sutton GM, Koza RA, Chouljenko VN, Kousoulas KG, Rogers PM, Kesterson RA, Thearle M, Ferrante AW, Mynatt RL, Burris TP, Dong JZ, Haleem HA, Culler MD, Heisler LK, Stephens JM, and Butler AA. Identification of Adropin as a secreted factor linking dietary macronutrient intake with energy homeostasis and lipid metabolism. Cell Metabolism 8:468-481, 2008. PMC2746325.


Mynatt RL Carnitine and Type 2 Diabetes. Diabetes Metabolism Research and Reviews 25 Suppl 1:S45-9, 2009.


Tang T, Zhang J, Yin J, Staszkiewicz J, Gawronska-Kozak B, Jung DY, Ko HJ, Ong H, Kim JK, Mynatt RL, Martin RJ, Keenan M, Gao Z, and Ye J. Uncoupling of Inflammation and Insulin Resistance by NF-kappaB in Transgenic Mice through Elevated Energy Expenditure. Journal of Biological Chemistry 285:4637-4644, 2010. PMC2836069.


Yang H, Youm YH, Vandanmagsar B, Ravussin A, Gimble JM, Greenway F, Stephens JM, Mynatt RL and Dixit VD. Obesity increases the production of pro-inflammatory mediators from adipose tissue T cells and compromises TCR repertoire diversity: Implications for systemic inflammation and insulin-resistance. The Journal of Immunology 185:1836-1845, 2010.


Vandanmagsar B, Youm Y-H, Ravussin A, Galgani J, Stadler K, Mynatt RL, Ravussinn E, Stephens JM, and Dixit VD. The NLRP3 Inflammasome Instigates Obesity-Induced inflammation and Insulin Resistance. Nature Medicine 17:179-188, 2011.


Anunciado-Koza RP, Zhang J, Bajpeyi S, Koza RA, Rogers RC, Cefalu WT, Mynatt RL, and Kozak LP. Inactivation of the mitochondrial carrier Slc25a25 (ATP-Mg++/Pi transporter) increases metabolic inefficiency. Journal of Biological Chemistry 286: 11659-11671, 2011.


Kashfi K, Mynatt RL, Park EA, Cook GA. Membrane microenvironment regulation of carnitine palmitoyltranferases I and II. Biochem Soc Trans 39:833-837, 2011.


Begriche K, Levasseur PR, Zhang J, Rossi J, Skorupa D, Sold LA, Young B, Burris TP, Marks DL, Mynatt RL and Butler AA. Genetic dissection of the functions of the melanocortin-3 receptor, a seven-transmembrane G-protein-coupled receptor, suggests roles for central and peripheral receptors in energy homeostasis. Journal of Biological Chemistry 286:40771-40781, 2011. PMC3220494.


Ganesh Kumar K, Zhang J, Gao S, Rossi J, McGuinness OP, Halem HH, Culler MD, Mynatt RL and Butler AA. Adropin-Deficiency is Associated With Increased Adiopsity and Insulin Resistance. Obesity, 2012 (Epub ahead of print).


Muoio DM, Noland RC, Kovalik JP, Seiler SE, Davies MN, Debaisi KL, Ilkayeva OR, Stevens RD, Kheterpal I, Zhang J, Covington JD, Bajpeyi S, Ravussin E, Kraus W, Koves TR and Mynatt RL. Muscle-specific deletion of carnitine acetyltransferase compromises glucose tolerance and metabolic flexibility. Cell Metabolism 15:764-777, 2012.