Faculty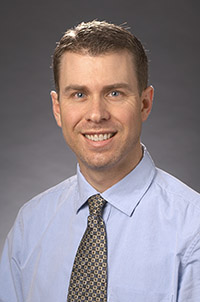 Corby Martin, Ph.D.
Associate Professor

Department/Laboratory:
Ingestive Behavior Laboratory
Phone: (225) 763-2585
Fax: (225) 763-3022
Education:
Ph.D., Louisiana State University, Baton Rouge, LA, 2001, Clinical Psychology
M.S., Eastern Washington University, Cheney, WA, 1996, Clinical Psychology
B.A., Eastern Washington University, Cheney, WA, 1994, Psychology

Laboratory Website:
www.pbrc.edu/research-and-faculty/research-programs/?serviceid=37

Research Interests:
Dr. Martin is an expert on the quantification of energy intake and expenditure in both controlled and free-living conditions. He is also a Licensed Clinical Psychologist in the State of Louisiana and has extensive experience conducting and supervising interventions to modify food intake, exercise, and body weight. His work also includes the objective quantification of adherence to weight management interventions that modify food intake and exercise behavior. Dr. Martin's research includes the application of novel technology and mathematical algorithms to monitor and modify participants' behavior through e-Health (telehealth) interventions while participants reside their natural environments.

Recent Publications:
Cefalu, W. T., Rood, J., Pinsonat, P., Qin, J., Sereda, O., Levitan, L., Anderson, R., Zhang, X. H., Martin, J. M., Martin, C. K., Wang, Z. Q., & Newcomber, B. (2010). Characterization of the metabolic and physiologic response to chromium supplementation in subjects with type 2 diabetes mellitus. Metabolism 59, 755-762. doi:10.1016/j.metabol.2009.09.023 NIHMSID: NIHMS167567.


Martin, C. K., Thomson, J. L., LeBlanc, M. M., Stewart, T. M., Newton, R. L., Han, H., Sample, A., Champagne, C. M., & Williamson, D. A. (2010). Children in school cafeterias select foods containing more saturated fat and energy than the Institute of Medicine recommendations. The Journal of Nutrition 140, 1653-1660. PMCID: PMC2924597.


Newton, R. L., Martin, C. K., Williamson, D. A., Sothern, M., Han, H., & Webber, L. S. (2011). Accelerometry measured ethnic differences in activity in rural adolescents. Journal of Physical Activity & Health 8(2), 287-295. PMCID: PMC3074436.


Martin, C. K., Das, S., Lindblad, L., Racette, S. B., McCrory, M. A., Weiss, E. P., DeLany, J. P., & Kraus, W. E., for the CALERIE Study Team. (2011). Effect of calorie restriction on the free-living physical activity levels of non-obese humans: Results of three randomized trials. Journal of Applied Physiology, 110, 956-963. PMCID: PMC3075130.


Martin, C. K., Rosenbaum, D., Han, H., Geiselman, P., Wyatt, H., Hill, J., Brill, C., Bailer, B., Miller, B., Stein, R., Klein, S., & Foster, G. (2011). Change in food cravings, food preferences, and appetite during a low-carbohydrate and low-fat diet. Obesity, 19, 1963-1970. PMCID: PMC3139783.


Coulon, S. C., Chellino, A., Reed, J., & Martin, C. K. (2012). Reliability of a common solution-based taste perception test: Implications for validity and a briefer test. Eating Behaviors, 13, 42-45. PMID: 22177394 PMCID: 3244673.


Bray, G. A., de Jonge, L., Xie, H., Rood, J., Martin, C. K., Redman, L. M., Most, M., Brock, C., Mancuso, S., & Smith, S. R. (2012). Effect of Dietary Protein Content on Weight Gain, Energy Expenditure, and Body Composition during Overeating. A Randomized Controlled Trial. JAMA,307(1), 47-55. PMID: 22215165.


Martin, C. K., Correa, J. B., Han, H., Allen, H. R., Rood, J., Champagne, C. M., Gunturk, B., & Bray, G. (2012). Validity of the Remote Food Photography Method (RFPM) for estimating energy and nutrient intake in near real-time. Obesity, 20(4), 891-899. PMID: 22134199.


Williamson, D. A., Champagne, C. M., Harsha, D. W., Han, H., Martin, C. K., Newton, R. L., Sothern, M. S., Stewart, T. M., Webber, L. S., & Ryan, D. H. (2012). Effect of an environmental school-based obesity prevention program on changes in body fat and body weight: A randomized trial. Obesity. Published online ahead of print.


Tudor-Locke, C., Martin, C. K., Brashear, M. M., Rood, J. C., Katzmarzyk, P. T., & Johnson, W. D. (in press). Predicting doubly labeled water energy expenditure from ambulatory activity. Applied Physiology, Nutrition, and Metabolism.