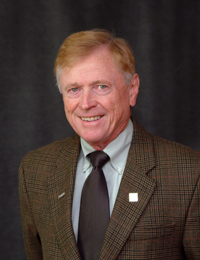 Donald Ingram, Ph.D.
Professor

Department/Laboratory:
Nutritional Neuroscience and Aging
Comparative Metabolic and Behavioral Core

Phone: (225) 763-2594
Fax: (225) 763-0261
Education:
Louisiana State University, Baton Rouge, LA B.A.
1966-1970 Psychology

University of Georgia, Athens, GA M.S.
1974-1977 Psychology

University of Georgia, Athens, GA Ph.D.
1977-1978 Psych & Gerontology

The Jackson Laboratory, Bar Harbor, ME Post-doc
1978-1980 Behavior Genetics

National Institute on Aging, NIH, Baltimore, MD Staff Fellow
1980-1984 Neurobiology of Aging

Position prior to joining PBRC:
Chief, Laboratory of Experimental Gerontology, National Institute on Aging
NIH, Baltimore, MD
Research Interests:
Dr. Ingram's research has focused on nutritional and pharmacological interventions designed to slow the rate of aging and thus reduce the risk of age-related disease and functional decline. The major area of investigation involves in vivo rodent models and in vitro cellular models to identify protective mechanisms invoked by calorie restriction. Long-term calorie restriction has been shown in a wide variety of species to increase lifespan, decrease age-related disease, improve stress responses, and attenuate age-related functional impairments. As a major new research area, his lab is investigating the development of calorie restriction mimetics. The objective is to identify compounds that mimic effects of calorie restriction by targeting metabolic and stress response pathways affected, but without actually restricting caloric intake. Other major lab activities involve developing and conducting behavioral assays of aging in rodents with focus on motor and memory performance. The objective is to identify mechanisms of age-related decline in motor and memory performance. As a primary objective of this research, investigations are directed toward preclinical development of pharmacological, hormonal, genetic, and nutritional interventions that improve behavioral function. To identify age-related structural changes in the brain and alterations produced through various interventions, morphometric analysis using unbiased stereology is applied.
Recent Publications:
Ingram DK, Roth GS. Glycolytic inhibition as a strategy for developing calorie restriction mimetics. Exp Gerontol. 46:148-54, 2011.


Ingram DK. Biomarkers of aging: From marking time to moving forward. Public Policy and Aging Report. 20: 18-27, 2011.

Stenholm S, Metter EJ, Roth GS, Ingram DK, Mattison JA, Taub DD, Ferrucci L. Relationship between plasma ghrelin, insulin, leptin, interleukin 6, adiponectin, testosterone and longevity in the Baltimore Longitudinal Study of Aging. Aging Clin Exp Res. 23(2):153-8, 2011.

Pistell P, Spangler EL, Kelly-Bell B, Miller MG, de Cabo R, Ingram DK. Age-associated learning and memory deficits in two mouse versions of the Stone T-maze. Neurobiol Aging. 33:2431-9, 2012.

Liedo P, Carey JR, Ingram DK, Zou S. The interplay among dietary fat, sugar, protein and açai (Euterpe oleracea Mart.) pulp in modulating lifespan and reproduction in a Tephritid fruit fly. Exp Gerontol. 47(7):536-9, 2012

Mattison JA, Roth GS, Beasley TM, Tilmont EM, Handy AM, Herbert RL, Longo DL, Allison DB, Young JE, Bryant M, Barnard D, Ward WF, Qi W, Ingram DK, de Cabo R. Impact of caloric restriction on health and survival in rhesus monkeys from the NIA study. Nature. Sep 13; 489(7415):318-21, 2012.

Urbanski HF, Mattison JA, Roth GS, Ingram DK. Dehydroepiandrosterone sulfate (DHEAS) as an endocrine marker of aging in calorie restriction studies. Exp Gerontol. 2013, Oct;48(10):1136-9

Youm YH, Grant RW, McCabe LR, Albarado DC, Nguyen KY, Ravussin A, Pistell P, Newman S, Carter R, Laque A, Münzberg H, Rosen CJ, Ingram DK, Salbaum JM, Dixit VD. Canonical Nlrp3 inflammasome links systemic low-grade inflammation to functional decline in aging. Cell Metab. 2013 Oct 1;18(4):519-32.

Martin-Montalvo A, Mercken EM, Mitchell SJ, Palacios HH, Mote PL, Scheibye-Knudsen M, Gomes AP, Ward TM, Minor RK, Blouin MJ, Schwab M, Pollak M, Zhang Y, Yu Y, Becker KG, Bohr VA, Ingram DK, Sinclair DA, Wolf NS, Spindler SR, Bernier M, de Cabo R. Metformin improves healthspan and lifespan in mice. Nat Commun. 2013;4:2192. doi: 10.1038/ncomms3192.

Dhurandhar NV, Dhurandhar EJ, Ingram DK, Vaughan K, Mattison JA. Natural infection of human adenovirus 36 in rhesus monkeys is associated with a reduction in fasting glucose. J Diabetes. 2014 Jun 9. doi: 10.1111/1753-0407.12178.